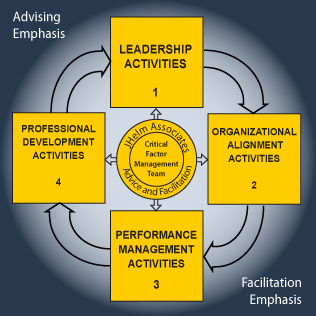 Common Fundamentals
Executives perform Leadership, Alignment, Performance Management, and Devel-
opment activities. Vigilance is critical to assure relevance as conditions change.
Method and Framework
The method of JHelm Associates is to facilitate:
Client identification of critical goals and objectives
Development of a clear path to attainment
Alignment of the organization for execution
Implementation of performance management to assess progress and identify any needed corrective actions
This facilitation is conducted with empathy, respect, honesty, and objectivity. JHelm Associates will not make a decision for a client, but will assist and offer advice. Once a decision is made, JHelm Associates will then assist with aligning the organization and establishing performance management.
Framework
The Common Fundamentals shown left comprise a framework for business achievement. It defines a cycle of developing strategy, communicating goals & plans, assuring the organization is poised to execute, quantitatively monitoring progress, and adapting.